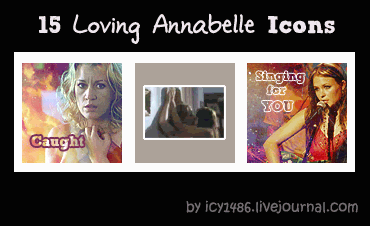 <Here's supposed to be a lj-cut, but - surprise, surprise - it doesn't work again... Great, that everyone can use it except me.... *moan*>I really loved the movie "Loving Annabelle" since I watched it one or one and a half year ago and I desperatly wanted to make some fanarts. Unfortunatly my first ideas have been for animated icons and I really had NO CLUE, how do do this.
And then I was ill two weeks ago... I really hate it, but there was one good thing about it: I had time to search for "How do create animated icon"- Tutorials. So here's a great "THANK YOU" to
ticcyyy , because I found a lot of these tutorials, but her one is great. Easy to understand with a lot of pictures, so you can SEE, what you have to do. [I'm not native englisch and I'm using the german version of PS, so sometimes there's a BIG questionmark, that "floats" above my head, when reading the other tutorials, because there was some thing's, that were not descibed that detailed.]
An when I created this ones some ideas for other icons make their way in my mind and...
But let's stop babbling Here we go:

1.

2.

3.



4.

5.

6.


7.
8.



9.

10.

11.



12.

13.

14.



15.




† please give credit when using
† comments are very welcome :)
† don't claim as your own
† last but not least: ENJOY!
Current Mood:
angry
Current Music: Lindsay Harper - All over me